For all specific info, please refer to our wonderfully detailed Newsletters by Joanne Collins under the Membership Heading
NEXT EVENT
Ice Cream Social
Linda Supakoff's home
1353 San Mateo Drive, PG
RSVP 772-539-1476 (cell or text)
Friday, August 11 at 2 pm
Beat the Heat - Bring your Bathing Suit
September 15, 2023
General Meeting 10:00 (Social) 10:30 (meeting) Punta Gorda Police and Fire Station
1410 Tamiami Trail, (across from IHOP) Punta Gorda
Program on Singapore by Joanne & Richard Collins
Margie Clyne Cross Culture awareness talk
WELCOME NEW MEMBERS

The best way to get to know us is to jump right in with as much participation as possible!!!
Welcome
New Members: Dorothy & Curt DeCoux, and Cindy Cauble
Dues for 2023 are $40/pp for Members
Dues for 2023 Associate Members are $15
Halloween Party Oct 30,2022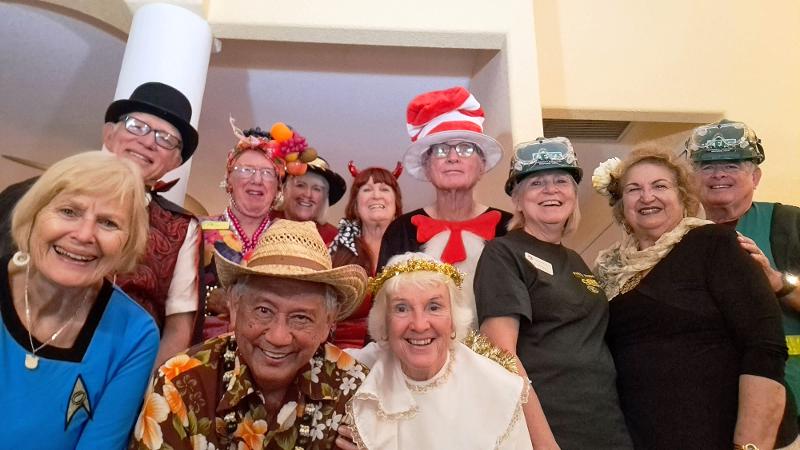 Want to Meet the Locals, Near and Far?
Friendship Force, an international travel and cultural exchange club, provides you opportunities to meet people across the world on a personal basis. Members of over 360 Friendship Force chapters in 70 countries visit one another staying in each other's homes sharing meals, conversation and experiences for one week. The host chapter arranges activities for the visiting chapter but it's more about faces than places. Experience Different Views. Discover Common Ground.

Click to visit Friendship Force International
The Friendship Force Name Explained Friendship Force Terminology
Frequently Asked Questions Florida Friendship Force Chapters
To learn more about Southwest Florida Friendship Force including articles about our travel and hosting experiences click About Us in the Navigation Bar at the top of the screen. Click on Newsletters to read our Newsletters. Investigate Southwest Florida by clicking Southwest Florida. For a membership application click on Membership.
Members - Access the the expense reimbursement form, meeting minutes and other information in the Membership section.
C
H

AN

G

IN

G

TH

E

W

A

Y

Y

OU

S

EE

T

HE

W

ORL

D